Session
Title: What can we do about child poverty?
The UK has an alarmingly high rate of child poverty compared to other wealthy countries. Schools are often at the forefront of dealing with the effects of this poverty. But what can all of us do about the causes of this poverty?
We've invited a panel of experts to analyse the magnitude and nature of child poverty in the UK and map out how schools, charities and the government can work together to bring an end to this injustice.
Chaired by Baz Ramaiah, Associate, The Centre for Education and Youth.
About Baz Ramaiah (CHAIR)
Role: Associate
Organisation: The Centre for Education and Youth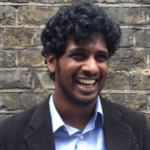 After studying philosophy at King's College London, he got his starter kick working as a special educational needs teaching assistant. He then spent the next five years teaching Religious Education and Psychology in inner city schools in East London and Manchester. He left the classroom for the world of educational technology, joining the founding team of Teacher Booker while completing an MPhil in Psychology at the University of Cambridge where his field work involved teaching and researching in two Pupil Referral Units in London. He then joined Teacher Tapp, the UK's biggest daily survey of teachers, as Research & Programmes Lead where he led an Innovate UK-funded trial of daily teacher surveying in Ghana. He has written on issues related to education, politics and data for The Evening Standard, Schools Week, Teach Primary, Teach Secondary, Cambridge University Press, The Tribune and The Jacobin.
About Naheeda Maharasingam
Role: Headteacher
Organisation: Rathfern Primary School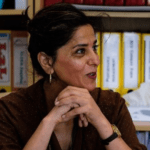 Naheeda is a Local Leader of Education (LLE) and a Fellow of the Chartered College of Teaching. She is currently Head teacher at Rathfern Primary School.
She is a skilled researcher practitioner who has led a school from Special Measures to Outstanding. She is passionate about values, which enrich her vision and permeate her school culture with a focus on disrupting the trajectory for disadvantaged pupils.
She is the Network lead for the Chartered College of Teaching Research Hub in Lewisham which is developing a Teacher Research Network across Lewisham and beyond. Working with Dr. Shirley Larkin and Dr. James Mannion she leads on MARG (Metacognition Action Research Group across twelve schools (Ten Primary and Two Secondary).
About Sammy Wright
Role: Lead Commissioner for Schools and HE
Organisation: Social Mobility Commission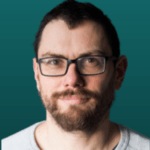 Sammy Wright is currently vice principal of Southmoor Academy in Sunderland.Between 2002 and 2014 he taught in London, experiencing the full range of contexts from deprived and multi-ethnic inner city comprehensives to the affluent suburbs.
He arrived in the North East seven years ago to set up the first non-faith school-based Sixth Form in Sunderland at Southmoor, establishing links with Oxford, Durham and Sunderland universities in the process. Sammy also won the Social Mobility Award School of the year in 2019 and the NEON School of the year 2020 for Southmoor's outreach programmes.
As the Social Mobility Commission's Lead for Schools and HE he has pushed for a recognition of 16-19 education as a crucial gateway for disadvantaged young people.
His first novel, Fit, is out in October 2021
About Zoe McIntyre
Role: Project Manager
Organisation: Children's Right2Food campaign
Z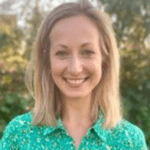 oe joined the Food Foundation in April 2020 as Project Manager of the Children's Right2Food Campaign – a nationwide initiative to ensure every child in the UK can access and afford good food. The campaign calls for government action to tackle food insecurity and inequalities in obesity, and since last year has been working closely with Marcus Rashford to #EndChildFoodPoverty. Before joining the Food Foundation, Zoe was at the Department for Food and Rural Affairs (Defra) where she worked in the agri-food team. She also spent two years living in Italy, where Zoe worked for an NGO focussing on raising awareness about food poverty through creating a network of community kitchens in cities around the world. Zoe also completed an MSc in Food Culture and Communications at the University of Gastronomic Sciences in Italy, writing her final thesis on the health-enhancing role of community gardens.
About Mei Lim
Role: Director
Organisation: Reach Children's Hub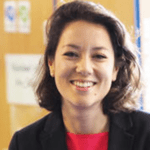 Mei has over 13 years experience working across all phases in education. She worked in South East London as a secondary History teacher, before leaving to study a Masters in Public Policy degree for 2 years in Berlin, with a focus on education and social policy. Returning to the UK, she decided to move into the primary phase and was Headteacher of a primary academy in Guildford until December 2018. During this time, Mei met Ed and was inspired by his vision to develop a complementary model that works alongside schools to support children and families, which is why she joined the Reach Foundation in 2019. She now oversees two of the Foundation's initiatives: the Reach Children's Hub and the Feltham Convening Partnership. She believes in the importance of listening and building relationships in order to put people before programmes, and loves working with a passionate team to support children from cradle-to-career.