Session
Title: Understanding marginalised young people's lives
We will be joined by five young people aged 16-24 from across England, each with lived experience overcoming barriers to learning and accessing support. For some of our panel, these experiences have now led them to become vital sources of support for other young people so they are able to give their perspective as a practitioner alongside observations from their own journey through education.
Chaired by Abi Angus, Research Associate, The Centre for Education and Youth.
About Abi Angus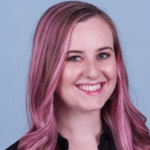 Abi Angus joined the team after spending over ten years working with marginalised groups of young people and their families. Abi has worked on a range of projects at the Centre for Education and Youth, including the Youth Social Action Toolkit and 'Young People on the Margins' book. She is interested how schools and youth centres can support all young people. Abi has a BA in Community Development and Youth Work and an MA in Education Policy and Society. Her previous roles include supporting young people with additional needs to access play and youth projects, running a national education support project for Gypsy, Traveller and Roma families and designing support plans for young people displaying high-risk behaviour in care and youth work settings. Experiences in these roles have fuelled a passion for inclusion, alongside a belief that education is key in creating a more equal and inclusive society.
The young people joining us in this session are experts by experience, with insightful perspectives on how schools, colleges and youth services can support all young people.