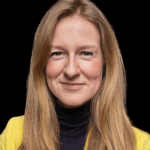 Title: An Unusual Year: What We Learned From 8,000 Teachers About Pandemic Life
Summary: No one expects a pandemic. Luckily, over at Teacher Tapp, we've been surveying teachers since 2017 about their daily lives. We know what workload 'normally' looks like. We can tell you which teachers 'usually' like their job. And then: everything changed.
This talk looks at what we've learned from 8,000 teachers surveyed each day throughout the pandemic year – including how anxiety, wellbeing, workload and school life changed.
It considers what this means for future education reform and how teachers and leaders can use their newfound strengths to make change.
About Laura

Laura McInerney is the former editor of Schools Week. She is now the Co-Founder and CEO of Teacher Tapp, a daily survey app of more than 8,000 teachers. Previously, she was a secondary school teacher before becoming a Guardian education columnist. She moved into journalism after being taken to court by the Department for Education because she asked to see some documents. (She got them, in the end).