Title | "Johnny Ball's "Wonders Beyond Numbers"
A short meander through the Early History of Mathematics with Maths Gems that All have Relevance Today.
Johnny visits lesser known historic maths milestones, showing how very relevant they still are in our modern world and how a mathematical eye on the past, can be motivational in explaining and simplifying the modern world enormously.
About Johnny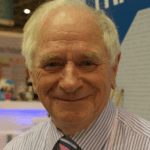 Johnny Ball has been inspiring over Maths and Science for over 40 years, writing and presenting 20 Factual Children's TV Series, winning UK and international Awards and inspiring thousands of young people towards careers in Science, Engineering and Teaching.
Staring out as a Comedian, Johnny wrote and produced five educational stage musicals, two sponsored by the UK Department of Education and producing many award winning videos. His Mind Zone Show, "With Your Mind and Tomorrow's Technology, Anything is Possible" in The Millennium Dome, SOLD OUT throughout 2000.
He is past President of the National Association for Gifted Children and Ambassador for British Engineering for over 25 years. With no University experience or qualifications, Johnny is completely self motivated and at 83, is still Lecturing widely on Maths and Science for audiences of all ages.
His books, in over 40 languages, sell very well in China. His talks illustrate how much clarity can be gained by studying Maths and Science concepts at their time and place of origin and all are featured in his latest Book, "Wonders Beyond Numbers – a brief history of all things mathematical." Maths Professor and Author Ian Stewart said recently, "Wonders is Brilliant. Had I found this in my teens, I would have devoured it!"
Session delivered in partnership with White Rose Maths