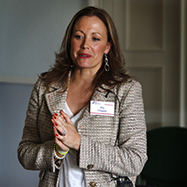 Elly graduated with honours in Human Resource Management and the Psychology of Human Communication. She has always been fascinated with human communication and behaviour. She spent her early career working in businesses, managing and developing strategy for solutions focused approaches and building and maintaining relationships with clients.
Elly has a passion and interest in equality and inclusion for all and her will to ensure that children with difference are heard within society. Elly has three children; her son is hearing impaired and her eldest daughter is deafblind. In 2014 when her eldest daughter lost her vision through misunderstanding of her disability, Elly sold her holiday let business to come home and begin another journey.
Over the past five years Elly has developed a unique approach (thanks to her greatest teacher – her phenomenal eldest daughter), to rebuild her trust in the world and work towards healing her trauma. Elly employs and manages an extraordinary 'A Team' of Intervenors and an 'out of the box' approach for education. Currently writing Ella's book about their journey to #flipthenarrative and learning daily from colleagues in the fields of SEND, trauma, education, health and social care.