Session
Title | The Headteacher's Handbook, Everything you wanted to know about your first Primary headship but didn't know who to ask!
An in-conversation event between Rae Snape (Author of the Headteacher's Handbook and Dr Kulvarn Atwal contributor to the Headteacher's Handbook and Author of the Thinking School, Developing a Dynamic Teaching Community. We will be talking about our own experiences of headship, the trials and tribulation, the joy and the rewards, what we have learned through the process and the advice we would give to others starting the journey!
Joining links to view this live broadcast will be issued to registered viewers 48 hours before the event commences.
About Dr Kulvarn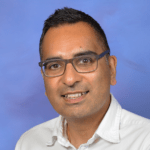 Dr. Kulvarn Atwal completed his PGCE at the University of East London in 1999 and has worked in 4 East London schools. He began studying for his Masters in Education in his NQT year and has been a passionate advocate of teacher engagement in research. In 2016, Kulvarn completed his Professional Doctorate in Education, and his thesis investigated the factors that impact upon teacher engagement in professional learning activities. His conceptual framework included a model designed for school leaders to implement in schools to maximise teachers' formal and informal learning opportunities.
 For the past nine years he has been Head Teacher at Highlands Primary School and is currently also Interim Head Teacher at Uphall Primary School. In 2017, 2018, 2019 and 2020 Highlands was recognised by the Mayor of London, Sadiq Khan, as one of the highest performing primary schools in London for pupil progress. He has just published his first book, The Thinking School – Developing a Dynamic Learning Community. He tweets at @thinkingschool2.