Session
Title: Diversity, Inclusion and Belonging | In education and society
Join us online for this Festival Keynote discussion chaired by Penny Rabiger, Co-founder and Trustee, The BAMEed Network.
Panel: Rt Revd Rose Hudson-Wilkin, Bishop of Dover, Anthony Peltier, former headteacher and senior officer in the Metropolitan Police Service and Dr Angela Herbert, Chair of the Violent Crime Prevention Board.
About Penny Rabiger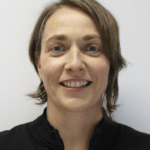 Penny was a teacher for 10 years and has been working with social enterprises, charities and start ups in the education sector since 2007. She was one of the founding directors of The Key for School Leaders, Head of Membership at Challenge Partners, and Director of Engagement with the Finnish edtech organisation, Lyfta. Penny is a school governor at a north London primary school, Trustee on a south London multi-academy trust board, a member of the Haringey BAME achievement group and a Co-founder and Trustee of the BAMEed Network. Penny is a coach on the Leeds Beckett University Centre for Race, Education and Decoloniality's Anti-Racist Schools Award.
About Bishop Rose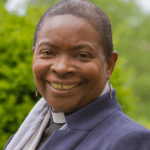 Rose was born and raised in Jamaica. She was educated at Montego Bay High School for Girls and later at Birmingham University. She trained with the Church Army and was commissioned in 1982 as an Evangelist; she later trained for ordination at Queens Theological College on their part-time course, ordained deacon in 1991, priested in 1994 and served her title at St Matthew's Church, Willenhall Road in the Diocese of Lichfield.For sixteen and a half years she served as a priest in Hackney (Holy Trinity with St Philip, Dalston and All Saints, Haggerston). In 2007 she was appointed as a Chaplain to Her Majesty the Queen and in 2010, she became the first female appointed to the position of the 79th Chaplain to the Speaker of the House of Commons. In November 2014, she took on the additional responsibility as Priest in Charge of city Church, St Mary-at-Hill near Monument.
She has previously served as a member of the General Synod of the Church of England and also as one of the Panel of Chairs of the Synod. She has twice represented the Church of England at the World Council of Churches (in Zimbabwe & Brazil); she served as its priest representative on the Anglican Consultative Council for 9 years. She also served as a Selection Secretary for the Church of England, helping to select men and women seeking to test their vocation to the ministry. She does numerous preaching and speaking engagements nationally (and occasionally overseas). She was a member of the Broadcasting Standards Commission and has wide experience of media engagement including some religious broadcasting.
About Anthony Peltier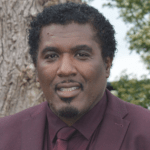 Anthony Peltier is a headteacher for twenty-five years and a senior officer in the Metropolitan Police Service. His accomplishments in education span Inner London to as far out as Birmingham. Anthony has led schools in the primary sector and was an executive headteacher in Southwark, south west London, in the alternative provision service. In 2013, Anthony and another senior colleague together wrote the Diversity Mark Standard. This school improvement framework, an organisational change programme, works with early years setting right through to Further Education colleges.
Anthony also sits on the Community Reference Group with the Metropolitan Police Service, working to ensure all future police training recognises the cultural richness, diversity, and inclusion within the communities it serves. In 2019 Anthony formed Innovate for Growth CIC with his business partner Dr Angela Herbert MBE. Together, they work to uplift communities while working with private, public, and third sector organisations to become Institutionally Black Aware. Anthony currently sits in a voluntary capacity as the Chief Executive Officer (CEO) on the Passion Project Foundation. The Passion Project is an employment initiative created for 14 to 25-year-olds. It encapsulates the use of a large-scale self-development and emotional intelligence framework designed to support young people of all ages.
Anthony Peltier is committed to full social inclusion, equality, equity, and diversity for all.
About Dr Angela Herbert MBE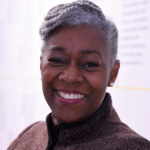 Dr Angela Herbert MBE's public sector career began over 36 years ago, first as a Volunteer Prison Tutor developing learning and accredited programmes in Personal Development for prisoners and staff.  From volunteering, Angela taught and led in a number of roles in Her Majesty's Prison and Probation Service to policy and implementation within a national strategic role.
Education and skills in prisons is a key area of interest for Angela since people of African Heritage are consistently and disproportionately represented in the Criminal Justice System.  In prison 26% of the adult prisoners population and 56% of young offenders more than half, identify as people of African Heritage.
Angela seeks to prevent young people encountering the criminal justice system and support those already in its 'clutches' to access hope, equity, employment and a range of opportunities through education.  Her ambition is to influence change across the criminal justice sector using a whole organisation approach, designed to effect change at all levels within institutions.
Angela maintains a portfolio career.  She currently Chairs the independent Violent Crime Prevention Board and Chair's a Metropolitan Police Independent Advisory Group in London.  She is the director of IOTC-Solutions, co-director of Innovate for Growth and Founder, Director of Made on Purpose.  Angela subscribes to supporting individual and organisational change solutions, equality and inclusion for all.  She is a speaker at Speaker for Schools and Every Woman, tackling serious social issues that result in individual and organisational change.
Angela was awarded an MBE in 2008, in recognition of her services to the Prison Service and crime prevention in London
In 2015 she was commissioned to write a publication for Springer dedicated to Martin Luther King, called, 'Now is The Time and in 2021, published a book of re-affirmations called Another day to be…