Safeguarding is everybody's business
8 July | 2:15 pm

-

3:00 pm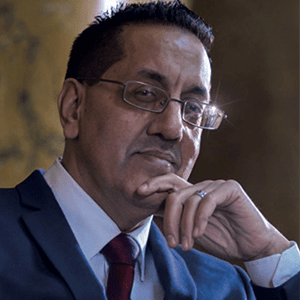 According to the ONS in 2020, at least 3.1m British adults were abused as children, that's at least 1 in 20 of us. What can we learn from our failures that can ensure they are not repeated?
About Nazir
Nazir Afzal OBE, was Chief Crown Prosecutor for NW England and formerly Director in London. Most recently, he was Chief Executive of the country's Police & Crime Commissioners. During 24 year career, has prosecuted the most high profile cases in the country & advised on many others and led nationally on several legal topics including Violence against Women & Girls, child sexual abuse, and honour based violence. He had responsibility for more than 100,000 prosecutions each year. His prosecutions of the so called Rochdale grooming gang and hundreds of others were groundbreaking and changed the landscape of child protection.
He is the new Chancellor of the University of Manchester (from 1/8/22)
He is Chair of Hopwood Hall FE College
He sits on the Independent Press Standards Organisation
He is National Adviser on Gender Based Violence to the Welsh Government,
Independent member of Oxfam's Safeguarding & Ethics Committee
Trustee of Association of Safeguarding Partners
He sits on the National Police Chiefs Ethics Committee
He was appointed the first ever independent Chair of the Catholic Church's Safeguarding Agency.
He is Chair of the Independent Review of Culture of London Fire Brigade
Trustee of WOW (World of Women) Foundation
His memoirs "The Prosecutor" published in 2020 are currently being adapted for a British multipart drama. He has been commissioned to write his next book "Race to the Top" for Sept 2022. His BBC R4 'Desert Island Discs' programme was the 3rd most listened to in 2021 – https://www.bbc.co.uk/programmes/m000ydp1. His podcast has been given rave reviews https://fearorfavour.com/
Nazir is a tutor for several leadership programmes in the public and private sector. He has made presentations to dozens of diverse organisations in this country and abroad. He has given hundreds of interviews in all forms of media. Nazir gives a considerable amount of time to charitable work and is trustee & Patron of several NGOs including ServiceSix, DVAssist, Jan Trust, Samantha Sykes Foundation, Karma Nirvana, Halo Project & SaveraUK and was Chair of the Prince of Wales' Mosaic Trust..
He is an Honorary Fellow of the University of Central Lancashire and Glyndwyr University, and awarded Honorary Doctorates in Law by the University of Birmingham, Manchester, Bradford, Leicester & London South Bank Universities. He has chaired conferences in New York, Madrid, Paris, Norway and Geneva. He has assisted the Governments of Somalia, Ukraine & Pakistan on Rule of Law reform.
Nazir has received many accolades, in 2005, he was awarded an OBE by the Queen for his work. He has also had the honour of being the only lawyer to ever prosecute a case before the Queen. In 2007, he received the UK Government's Justice Award 2007 and was awarded the Daily Mirror newspaper "People's award" voted for by readers. Nazir was also selected for the Asian Power 100 along with the Muslim Power 100 list, recognised as one of the 100 most influential leading Muslims and Asians in the UK.  He is listed in the Pakistan Power100 which regards him as one of the 100 most influential people of Pakistani origin in the world today. He was Asian Media Group's "Man of the Year 2012." Most recently, he received the Lifetime Achievement Award at the Pride of Birmingham awards 2022. He was awarded the first ever "Disruptor for Good" award at the Northern Power Women Awards 2022.
The acclaimed BBC Film "Three Girls" was based on his case
"An inspiring figure, forensically intelligent" – Times Editorial Nov 2012
"Until recently crimes encountered by pioneering prosecutor rarely troubled a courtroom, now these issues have risen to the top of the Policy agenda" – The Independent July 2012
"The authentic face of British Justice" – New York Times Saturday Profile 2013
Related Sessions