Making peace with the Enemy
7 July | 2:15 pm

-

3:00 pm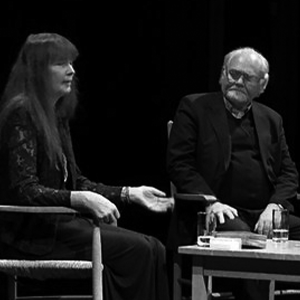 Jo Berry and Pat Magee first met in 2000 in Dublin in a private house after his release from prison under the terms of the Good Friday Agreement. In 1984 Pat, as an IRA volunteer had planted the bomb at the Brighton Conservative Party conference which killed Jo's father. In the last 22 years Jo and Pat have worked together promoting peace and reconciliation in a wide range of places and circumstances both in the UK and internationally, sharing a platform over 300 times. There have been some challenges and also moments of healing and deep insight which they will share with you.
At this talk Pat and Jo will reflect on how their lives have been changed over that time, and what lessons they have to share with those seeking to reconcile the ever-deepening divisions in society. This event is a rare opportunity to hear two people whose transformational and unique reconciliation work is internationally recognised.
About Pat
Patrick Magee was released from prison in 1999 under the terms of the Good Friday Agreement. Whilst in prison he completed a PhD examining the representation of Irish Republicans in 'Troubles' fiction. For 27 years he was a committed member of the IRA. In November 2000 he agreed to meet Jo Berry, whose father had been killed along with four others in the IRA's attack on the Grand Hotel, Brighton in 1984. Since then they have met on more than 300 occasions, in the UK, the North of Ireland and overseas. Although Pat carries the burden of knowing he had caused Jo profound hurt, they continue to explore their common humanity, recognising that war robs combatants of what it is to be human, of an essential capacity to empathise and to see the world through the eyes of others.'
Patrick Magee's memoir 'Where Grieving Begins – Building Bridges after the Brighton Bomb' was published by Pluto Press in 2021.
https://www.plutobooks.com/9780745341774/where-grieving-begins/
About Jo
Jo Berry is a peace builder from the UK who works to resolve conflict around the
world. Sixteen years after her father was killed by an IRA bomb, Jo first met with the
man responsible, Pat Magee. This initial three-hour meeting led to them speaking on
over three hundred occasions, on a shared platform around the world.
The founder of the charity 'Building Bridges for Peace', Jo advocates that unbounded
empathy is the biggest weapon we have to end conflict. With political, religious and
racial divides deepening as global and local events unfold, her words offer a message
of hope and encourage us all to see the humanity in others.
Jo is frequently invited to address international conferences and seminars on themes
of peace, conflict resolution and reconciliation. She has given talks and workshops in
areas around the world including Lebanon and Rwanda, USA, India, Mexico, Europe,
South Korea, Palestine and Israel as well as the U.K. Her unique reconciliation work is
studied around the world by academics, students and professional peace builders.
Over the last years Jo has developed workshops in schools on
topics of conflict transformation, storytelling, becoming positive changemakers, and
challenging violent extremism. She has contributed a chapter called Positive Changemakers – Working with young people to build resilience and empathy, in the book soon to be published by Monument Fellowship, "What could fair justice mean for children and young people?" Jo is also trained as a Restorative Justice facilitator.
Related Sessions