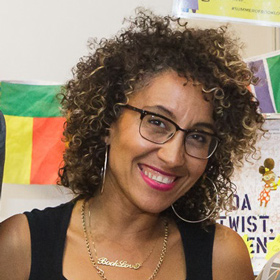 After 15 years of working in the media and with no publishing experience whatsoever, the frustrations Samantha encountered regarding the lack of diversity and cultural representation in TV and in books motivated her to create "Book Love – The Travelling Multicultural Book Carnival.
The award-winning Book Carnival, now into its 3rd year, based in London's Brixton Market, represents the beautifully diverse and bilingual communities around us; sourcing some of the best multicultural content there is from across the world, for both children and adults.
The carnival travels to schools up and down the country helping teachers source some of the best culturally diverse books and toys our there, and can be often seen parked up in playgrounds, bringing communities of teachers, adults and children together over a shared love of books and cultural identity.
"Taking books out of bookshops into communities, schools, pop-ups and offices up and down the country, is central to the work we do. Everyone must have access to multicultural books and we want 'Book Love' to take readers, especially classrooms, on a journey of discovery, where those who don't see themselves find themselves or where readers discover new cultures about a friend, neighbour or community they perhaps previously knew nothing about."
The Book Carnival also travels to festivals, fairs and markets beautifully interweaving music, storytelling, flags, art, craft and of course books, to reflect the amazing cultural richness of the world we live in, infusing children and adults with a love of cultural heritage; not only their own cultural heritage, but that of their friends, classmates, neighbours and wider community as a whole.
During two days at the Festival find us at stand Z22 where the carnival will be pitched up with music and an amazing array of books to view and buy. Also, on the second day we will be speaking During Period 4, (14.15 – 14.55) in Maths 4.
@thisisbooklove_ Instagram
@thisisbooklove_ Twitter
Tel 07957 482 775