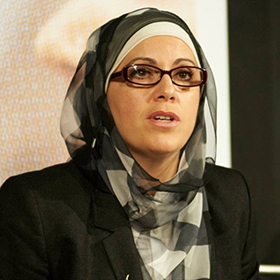 Rania Hafez is an academic and writer with a long career in further and higher education. Currently at the University of Greenwich where she is programme leader for the MA in Education, Rania also co-chairs the London Learning & Skills Research Network (LLSRN) and is a member of the Universities' Council for the Education of Teachers' (UCET) CPD Committee. Previously Rania was Director of Post Compulsory Education at the University of East London, and non-executive Director of the Institute for Learning.
In 2008 Rania founded 'Muslim Women in Education' a professional network for educationalists and researchers. In addition to her academic work Rania is a regular political and cultural commentator whose media credits include the BBC, Levant TV, and the Islam Channel.
Rania Hafez has published on the philosophy of education, educational leadership, cultural identity, and religion and education. She is a Fellow of the higher Education Academy and the Muslim Institute.
Recent publications:
Hafez, R. (2017) 'Inside the Trojan horse: Educating teachers for leadership' in Daley, M., Orr, K., and Petrie, J. (eds) The Principal: Power & Professionalism in FE, IOE Press
Hafez, R. (2016) 'Faith in the Academy' (2016) in Hudson, C. & Williams, J. (eds) Why Academic Freedom Matters, Civitas