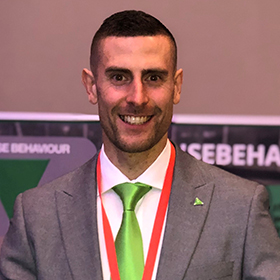 Following achieving an honours degree in sport and culture in 2006, Peter Thompson began in education as a teaching assistant in 2008.
After entering mainstream physical education in 2011, Peter suffered with depression, finding intense gym training and skipping to music as a coping mechanism.
In 2012, he joined the world of behaviour and inclusion, developing a unique approach to support behaviour.
Exercise Behaviour was born, and since has been delivered in over 60 schools. Today Exercise Behaviour is delivered as small group support, whole school model and staff training programme.
In 2017 the skipping led Peter to accomplish a Guinness world record for the most skipping rope crossovers in 60 seconds, amplifying the the 33 year olds message to young people, of control and positive attitude leading to success.