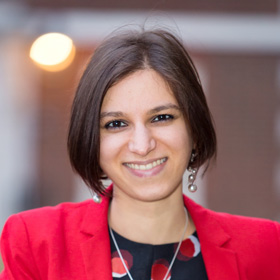 Founder Kiran started her career teaching in inner-city secondary schools, specialising in teacher training and improving literacy teaching across the curriculum. Since leaving the classroom, Kiran has worked in policy design and delivery at the Social Mobility Commission, consultancies Education Development Trust and Isos Partnership, and the charities Teach First and Save the Children. Her published research focuses on poverty, social mobility and the evolution of the school led system in England. Kiran holds a first class honours in English and Education Studies from the University of Cambridge, a PGCE (Teach First) from Canterbury Christ Church University and is studying an MSc in Political Science at University College London.
Over 2017, Kiran undertook a comprehensive review of exclusion in England, speaking with practitioners, parents, pupils, academics, policymakers and third sector experts to inform her research.  This has been published by think tank IPPR under the title 'Making The Difference: Breaking the link between school exclusion and social exclusion'. The research set out the problems and solutions to rising school exclusion in England and poor outcomes for excluded learners.
Since 2018, Kiran has been founding CEO of new charity The Difference, which will implement the recommendations of her IPPR research. The Difference exists to improve the life chances of vulnerable learners by raising the status and expertise of those who educate them. Over the next three years, The Difference will do this through:
People: inspiring the best teachers to work with the children who need them most;
Practice: sharing an evidence base of what works with the most vulnerable learners;
Policy: influencing a more ethical, inclusive school system.