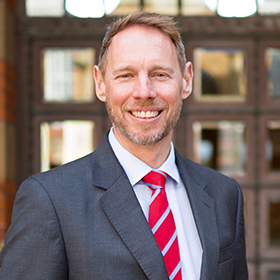 Julian Thomas is Master of Wellington College and Chief Executive of the Wellington College Group of Academies and Schools.* He is Chairman of the Wellington College Multi Academy Trust, a Member of the Corvus Learning Trust, and was a founding governor of the London Academy of Excellence – now regarded as a model for state-independent school partnerships. Julian is a champion of meaningful collaboration between state and independent schools and is committed to forging links between the two sectors. In 2018 he announced an ambitious bursary campaign designed to widen access and opportunity to Wellington College.
Following an early career in IT in the banking and oil sectors, Julian taught at Forest School and St. Dunstan's College, where he co-authored several Maths text books. He went on to be Director of Studies at Portsmouth Grammar School and Second Master at Hampton School. After completing an MBA in Educational Leadership, Julian was appointed Head at Caterham School in 2007. He became the 14th Master of Wellington College in 2015.
In 2014, Julian completed an unassisted 950km trek from the coast of Antarctica to the South Pole and, more recently, he has competed in the Marathon des Sables and will attempt to row the Atlantic Ocean in December 2019. He has climbed Mont Blanc and Gran Paradiso and is in the process of acquiring his freefall skydiving licence. He is also a Fellow of the Royal Society of Arts.
In 2016, he was named by the Evening Standard in The Progress 1000 – London's most influential people. In 2019, he was named in the i25 – one of independent education's 25 most influential people.
*The Wellington College Group of Academies and Schools comprises Wellington College, Eagle House Preparatory School, 6 international schools and 2 state academies.