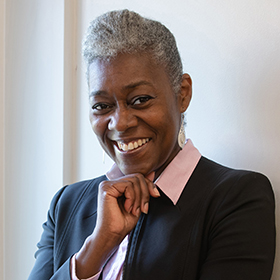 Dr Angela Herbert MBE's public sector career began over 35 years ago, as a Volunteer Prison Tutor. She developed Personal Development Programmes, accredited by the Open College Network. This was delivered to prisoner learners and staff.
Angela progressed from Volunteer Tutor to Curriculum Co-ordinator, Deputy Education Manager and Education Manager in Her Majesty's Prison Service. She moved to HMPPS HQ as a Learning and Skills Manager where her responsibilities included; aligning prisoner qualifications and skills.
Angela maintained a portfolio career that included membership of the Prisoners Education Trust. She currently Chairs the independent Violent Crime Prevention Board – (Principle Dr Neville Lawrence) and Chairs a Metropolitan Police Independent Advisory Group in London.
Disproportionality within the education, prison and mental health sectors of people of African Heritage, is an area that Angela delivers solutions based training to enable and empower practitioners to identify and meet the needs of learners from diverse backgrounds.