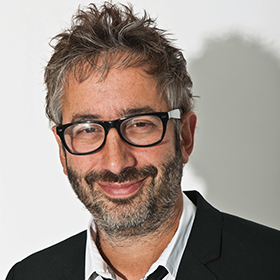 David Baddiel is an accomplished comedian, author, screenwriter and television presenter.
David is responsible for some of the most memorable and ground-breaking live comedy achievements of the last 30 years. In 1992, he performed to 12,500 people with Rob Newman in the UK's first ever arena comedy show and was credited for turning comedy into the "new Rock'n'Roll' long before arena comedy gigs became commonplace. David returned to stand-up in 2013 and, in 2016, premiered his show My Family: Not the Sitcom, which ran for 15 weeks in the West End, was nominated for an Olivier Award and toured internationally.
David began his TV career as writer and star of BBC2 shows The Mary Whitehouse Experience and Newman and Baddiel in Pieces. With fellow comic Frank Skinner, David created and presented the hugely successful Fantasy Football League and Baddiel & Skinner Unplanned and he is a regular face on panel shows including Would I Lie to You?, 8 Out of 10 Cats and QI to name a few.
An award-winning author, David has written five children's books which have now sold over one million copies and is also developing The Parent Agency as a feature film for Fox 2000. In addition to his children's books, David has written four critically-acclaimed adult novels as well as hit film The Infidel.