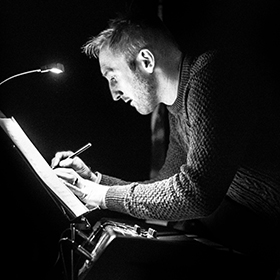 Andrew J Smith (MA, BA Hons) is a Manchester based composer, arranger and music education consultant. Andrew specialises in writing music for, and alongside young people in a variety of formal and non-formal education settings.
Andy is internationally recognised as a composer dedicated to working in music education and outreach. Most notably, Andy has worked in Japan training musicians from Osaka's 21st Century Symphony Orchestra and more recently in Sweden with musicians from the Stockholm Concert Orchestra and Vasteras Sinfonietta. In the UK, Andy has worked for many of the major orchestras and leading music education organisations. This has included bespoke compositions and arrangements, presented concerts and workshops and consultancy.
Andy is very experienced in working with young people in mainstream education and in more challenging environments such as PRUs, prisons and hospitals, with delivery that is informative, accessible and fun.